Robert Higdon provides us with a second report on the 2013 Winter Solstice Ride. Robert is SIR's resident graphic designer. You can view his professional portfolio and random musings at Bunnyhawk.
2013 Winter Solstice Ride
By Robert Higdon

"If I get a flat, I'm going to bag this ride." So stated Mark Thomas, one of the hardiest randonneurs I know. A man with roughly six zillion kilometers under his belt this year alone. That statement said a lot about the ride we were just starting. It didn't qualify us for anything. It was overnight. It was cold and very wet.
Somewhere around 30 of us talked ourselves into at least starting the damn thing. We holed up at Peet's Coffee in Redmond and drank coffee to build up our nerves. It was my first actual (paperwork legitimate) rando ride in nearly two years. After PBP, I decided to take some time off from the sport for a bit… maybe just keep it "200k and under" for a while. Somehow that turned into two years without a single ride over 100k. Regardless, I did need the time to recalibrate. It was damn good to see the old crew again, though. There are so many smiling (delusional?) faces in that crowd.
We got rolling at 8:00pm sharp. My only plan was to stick with Mark Thomas and Joe Platzner and catch up. If I could rope Hahn Rossman in with the slow group, all the better. On the ride through Marymoor Hahn dropped something from his saddlebag and I slowed down with him in hopes of keeping the group together. One turn later, Vinnie had a mechanical that Hahn and I stopped to help fix. It was maybe 45 seconds in total time off the bike. I never saw the "main group" again that night.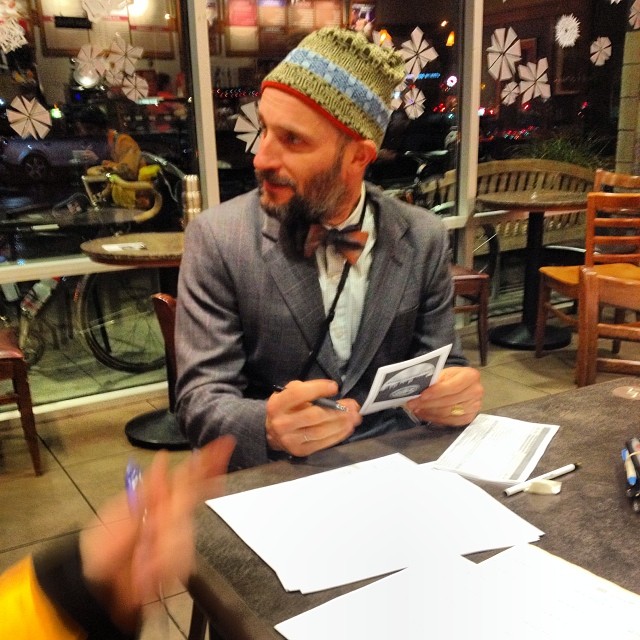 I could have been in much worse company, though. Hahn is a talking machine and we had a lot to catch up on. There's a lot of gossip to cover, between bike building, cyclocross, and rando culture.
On Mercer Island, Hahn showed me an awesome little gravel side cut to a road that I've taken probably a couple hundred times over my short cycling lifetime. Finding new paths is still a simple joy for me. If that ever stops entertaining me, I'll probably stop riding all together.
We passed by my apartment for the first of two times on this ride. At this point, it was only 30k into the ride. I joked about grabbing a beer quick beer at home. Hahn had just come from a cocktail party. We kept rolling.
My usual commute to work followed—toward Renton. The Cedar River Trail led us to a much-needed manned control with hot cocoa. SIR really knows how to man a control, especially at night. We are coddled up here in Seattle.
Hahn and I hooked on with a couple other randos for the slog back up toward our starting point (but only the half way point) in Redmond. Most of our rides up here are loop circuits, but this one was a loose figure 8. It kept things fairly easy and well lit—great for an overnight ride—but with too many options to bail for my liking. We opted for any and all gravel routes along the way.
Once we finally got to our gas station control in Redmond, one member of our small group was talking about quitting. He had legitimate reasons to, but we egged him on as much as possible anyway. He rode along for the rest of the ride. Suffering loves company.
There is nothing quite like rolling back out into a cold, rainy night after just "warming up" inside a mini-mart. It's really…character building.
The ride back down Lake Sammamish rolled right on by, but I really started to hit my wall (one of many that night, to be honest) around the East Renton Highlands. I seemed constantly on the verge of being dropped and I had no cue sheet on me. It was a rookie move. I constantly considered my bail out options. Certainly someone would pity me enough to pick me up in the middle of the night in Renton right? Hahn kept nudging me along though, both with words and general company. We finally hit the south end of Lake Washington.
We made a little bathroom stop at Seward Park. I switched out to my (soon to be soaked) third pair of gloves. It was a real test of my current cycling gear. Most of my old clothing is getting a little long in the tooth. My legs were warm with the exception of that part in my legging with the giant hole in it.
As if in a sick joke, the second time we passed my apartment was 160k in to the 200k ride. "Hahn, I've got a plan. We both stop at our houses tonight, and I'll take you out in the morning to pick up your truck. Just imagine a nice hot shower." He turned to me, "This is the home stretch man." "I know…I'm…joking." Passing by my apartment literally hurt my heart.
We eventually hit the Burke Gilman Trail. It was a long slog up and over the northern tip of Lake Washington. He was correct—it was the home stretch—but the ride never seemed to want to end. We passed the occasional super-early morning jogger, seemingly angry at the fact that they were up so early and exercising in the dark with headlamps on. They must have been thinking the exact same thing we were; "What the hell are those cyclists doing out here at this time?" I didn't know. I still don't.
Eventually, our beacon of light reached us. I've never been so happy to see a Peet's Coffee open. We finished at 6:00am—the exact moment they opened for the day. The sweet women working the counter let us drip all over their floors and served us bathtub sized cups of mediocre—albeit delicious to me at this point—coffee. I had an awesome croissant with "flour flown in from Paris," according to the barista. Fancy.
A week later, my shoes just finished drying out. Here I am again. Back in the thick of it. What am I doing?
Welcome to the 2014 randonneur season.